The only travel stroller review you need!
A compact travel stroller is a game-changer and an absolute must for any traveling mama. And if you're in the market for one this is the travel stroller review for you!
We did our first few trips with the UppaBbay Vista + travel bag. It was convenient enough but way too bulky. So just before heading to Orlando for a family wedding (and a trip to Disney World & the Wizarding World of Harry Potter), we started shopping around for a compact travel stroller.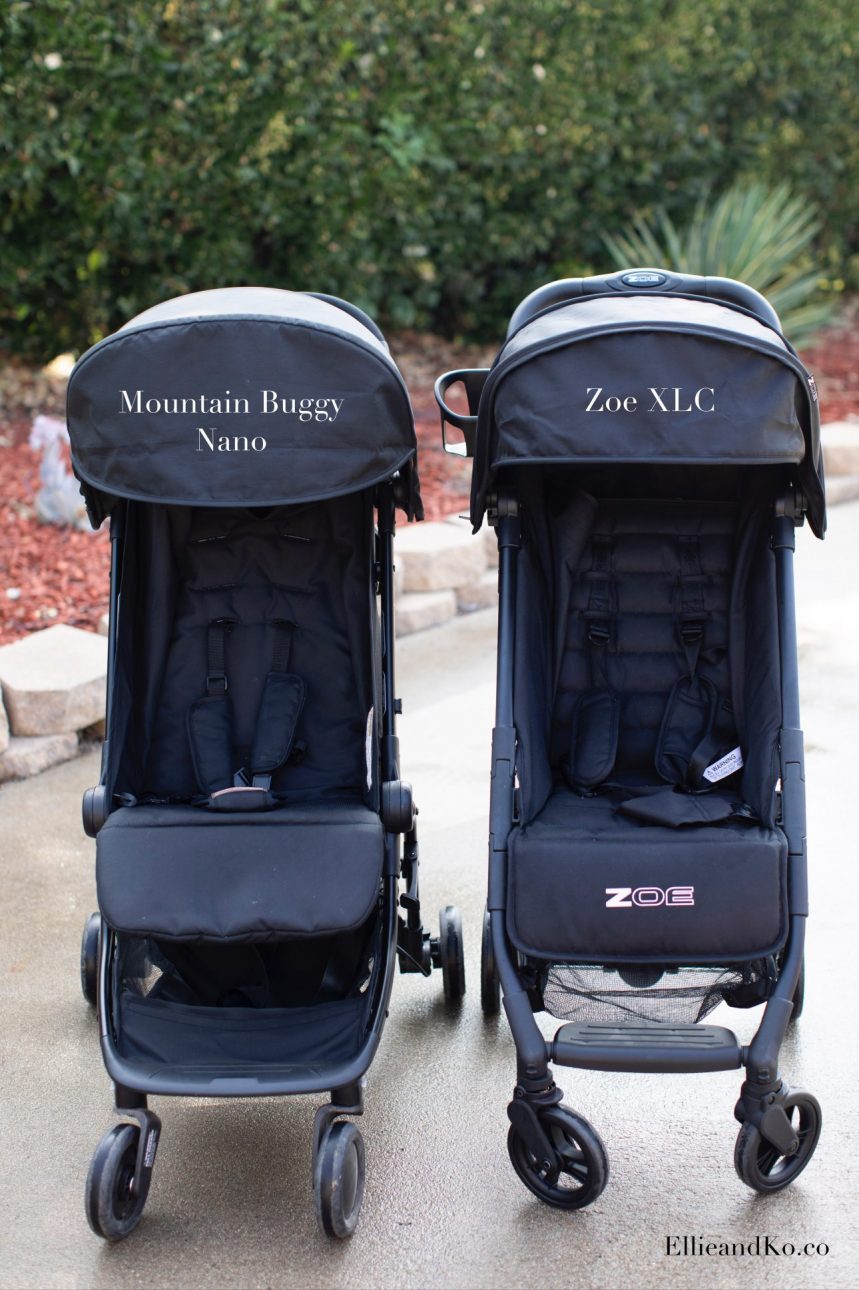 Since we knew these strollers would literally be traveling the globe, we had some very specific requirements:
After a bit of research, the ultimate decision came down to either the Mountain Buggy Nano ($199.99) or the Zoe XLC ($199.95). So to make sure we were making the right choice, we decided to buy both and do a side-by-side comparison.
Now, after testing these strollers and since we don't want you to have stroller regret, we have a detailed review to share!
A Detailed Travel Stroller Review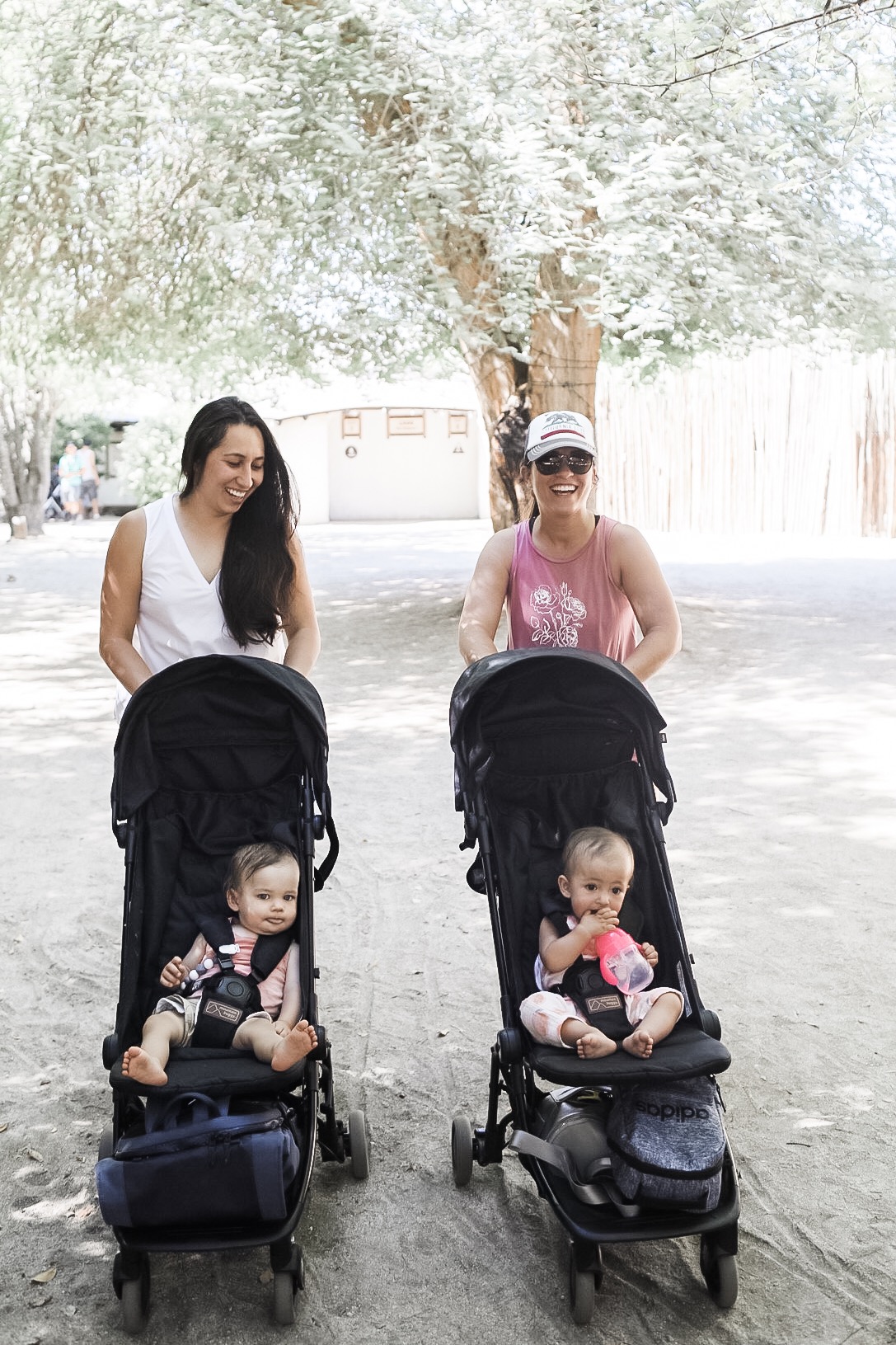 Fold: How Quick and Easy Does it Fold?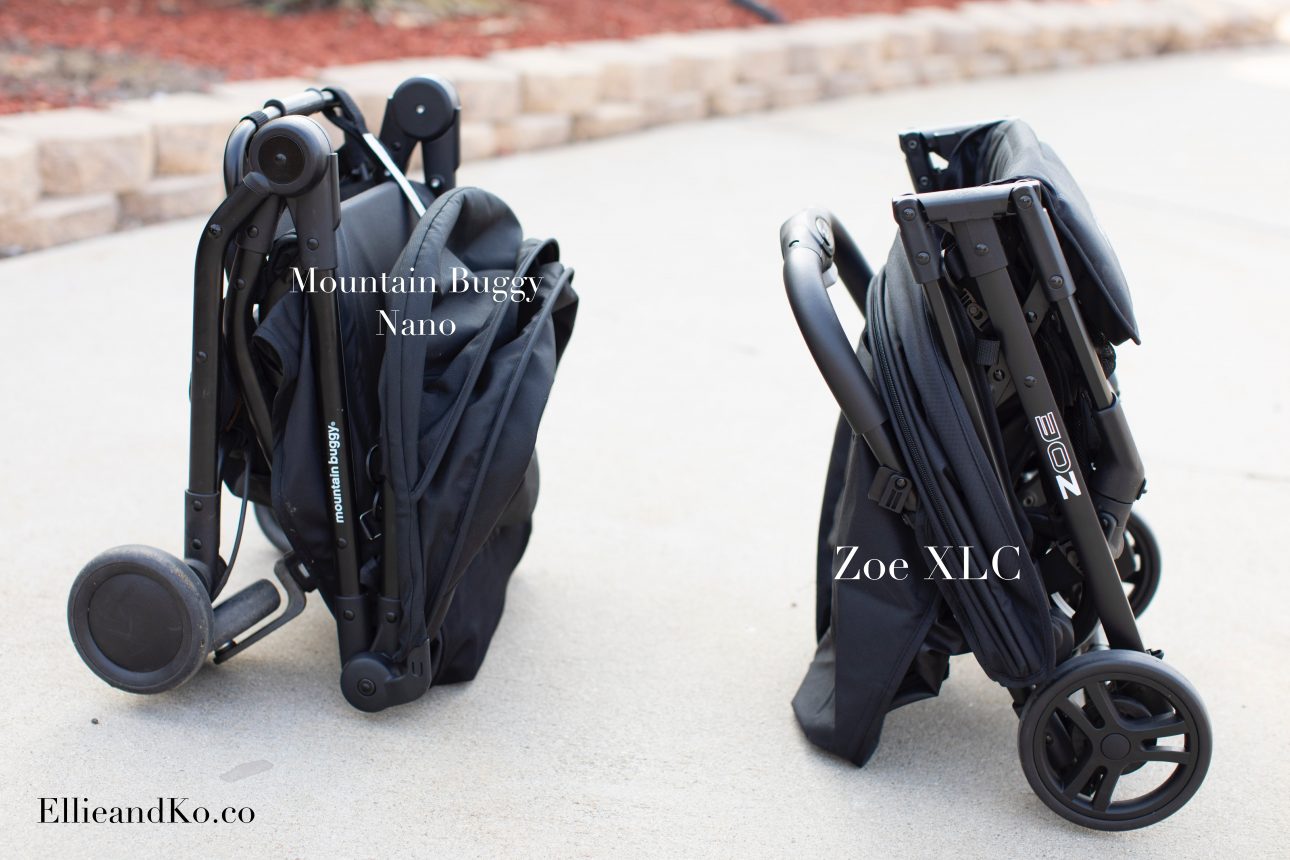 Both strollers feature a tri-fold design. However, they fold a bit different:
The Nano is a multistep process. You press with both hands, flip it forward, flip it backyards, and then latch the strap.
The Zoe is a crazy easy one-step process. Engage the lever on the handlebar and fold it down in one motion.
Winner: The Zoe*
*However, I will admit I'm a little worried it's too easy and I may accidentally fold it while pushing the baby around.
Recline: Is it suitable for naps?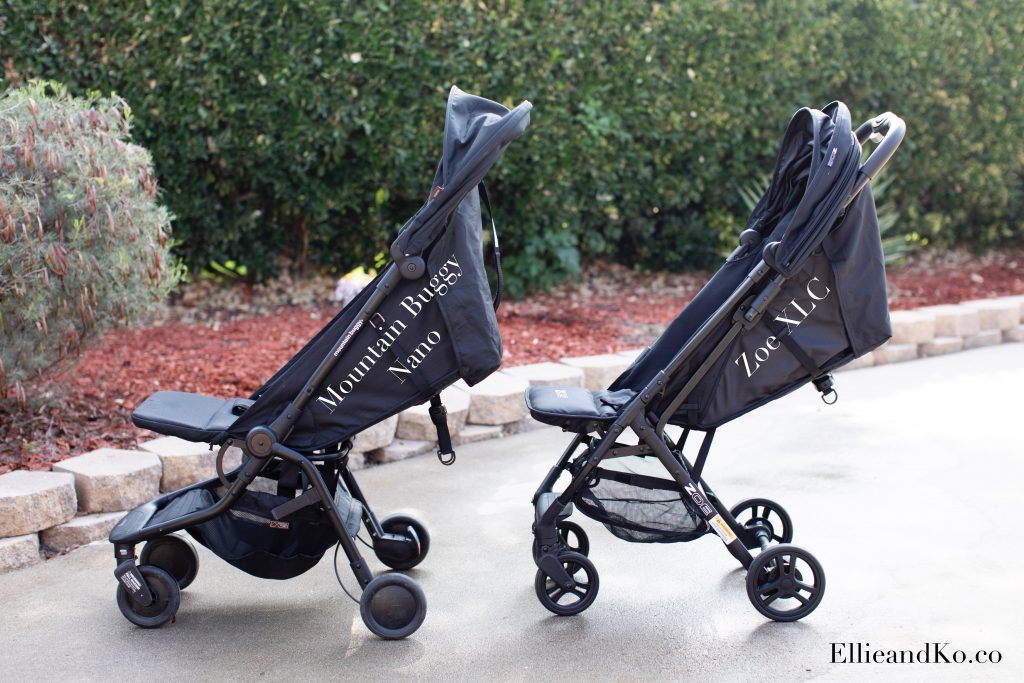 Storage: Can it Store all the things???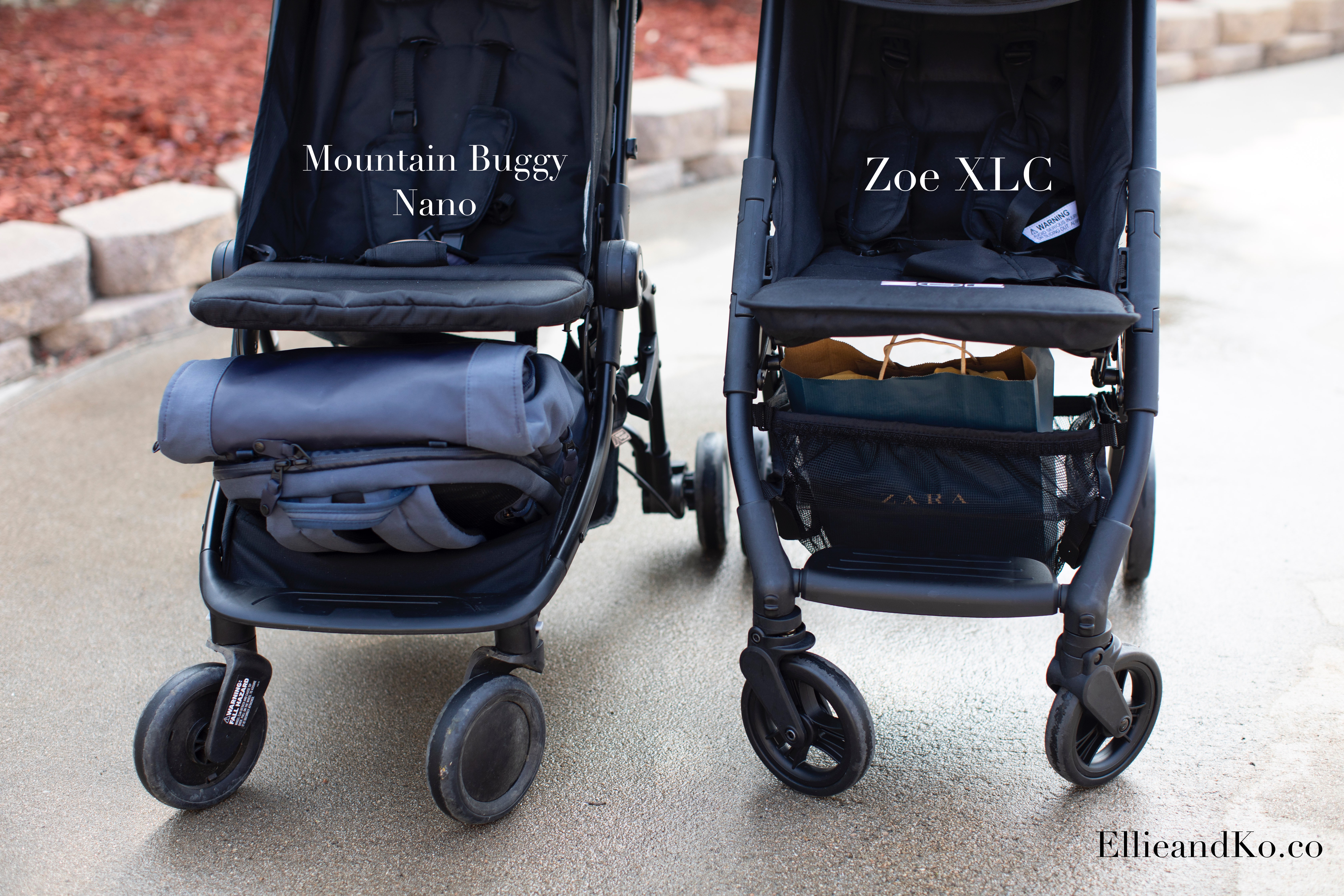 Both have under-seat storage. However, the Nano storage capacity is like 100x bigger than the Zoe's.
Winner: Mountain Buggy Nano 
This is where the Nano blows Zoe out of the water. I'm not exaggerating when I say it has a ton of storage. It literally fits our adult-sized diaper bag backpack.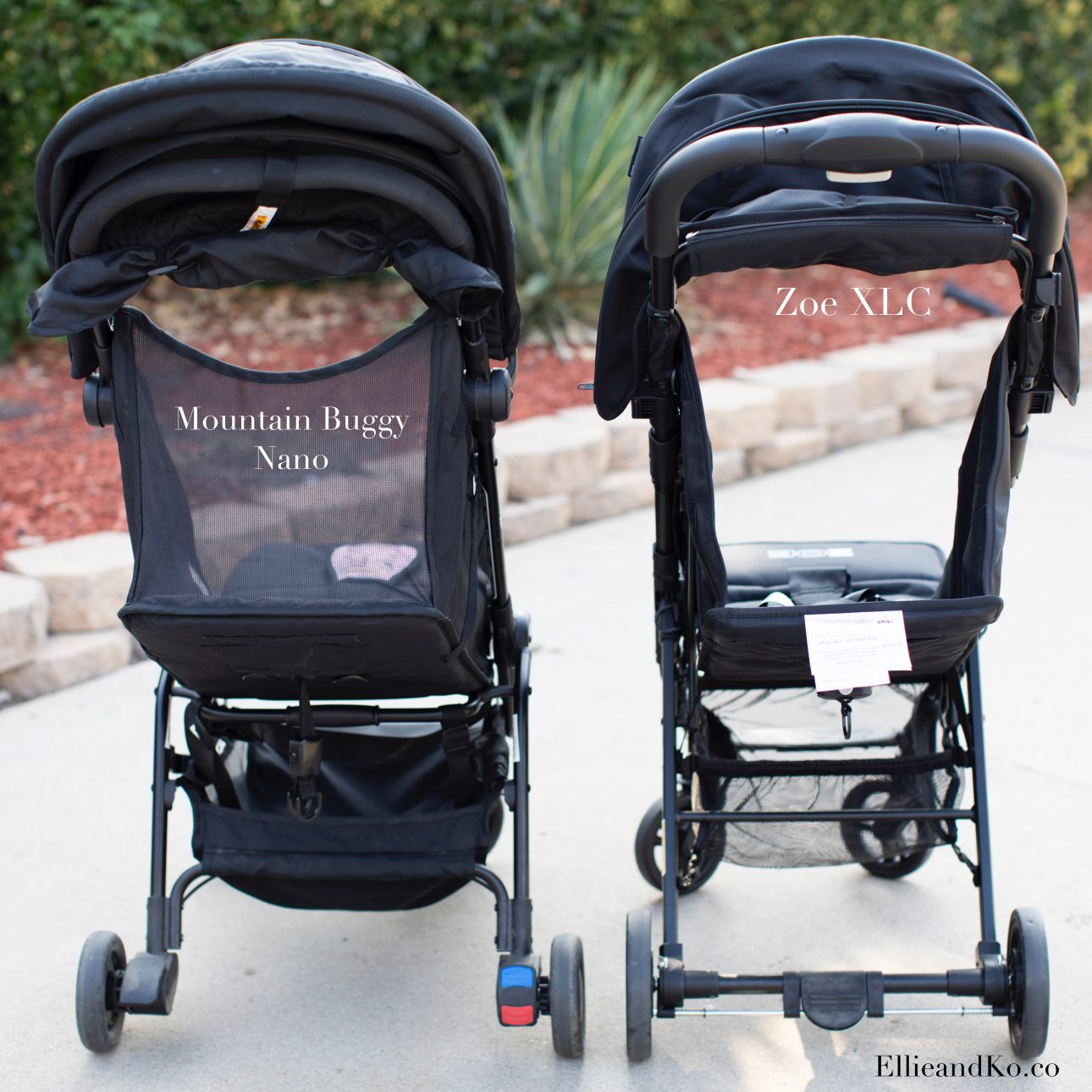 These strollers are super similar in size, shape, and ease-of-use. They pretty much feel the same when pushing and maneuvering around. Even though the Zoe is 2 lbs lighter, I would say it's a negligible difference.
Winner: Another Tie!
They are also both super compact when folded up and can fit in the overhead bin. Although we usually gate check it.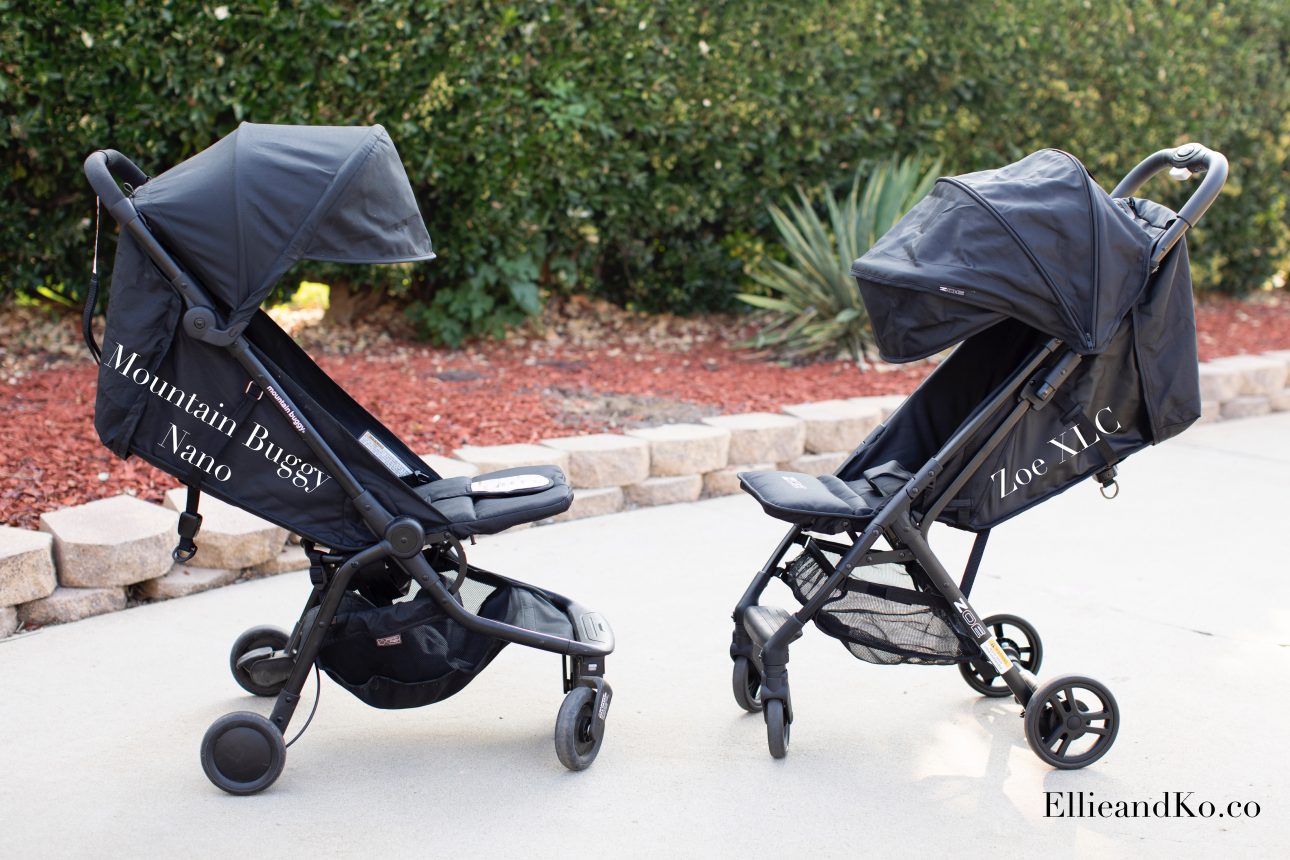 While both strollers have retractable sunshades, the Zoe provides a bit more protection.
Winner: Zoe 
Also, IMO the Zoe's shade also has better overall construction.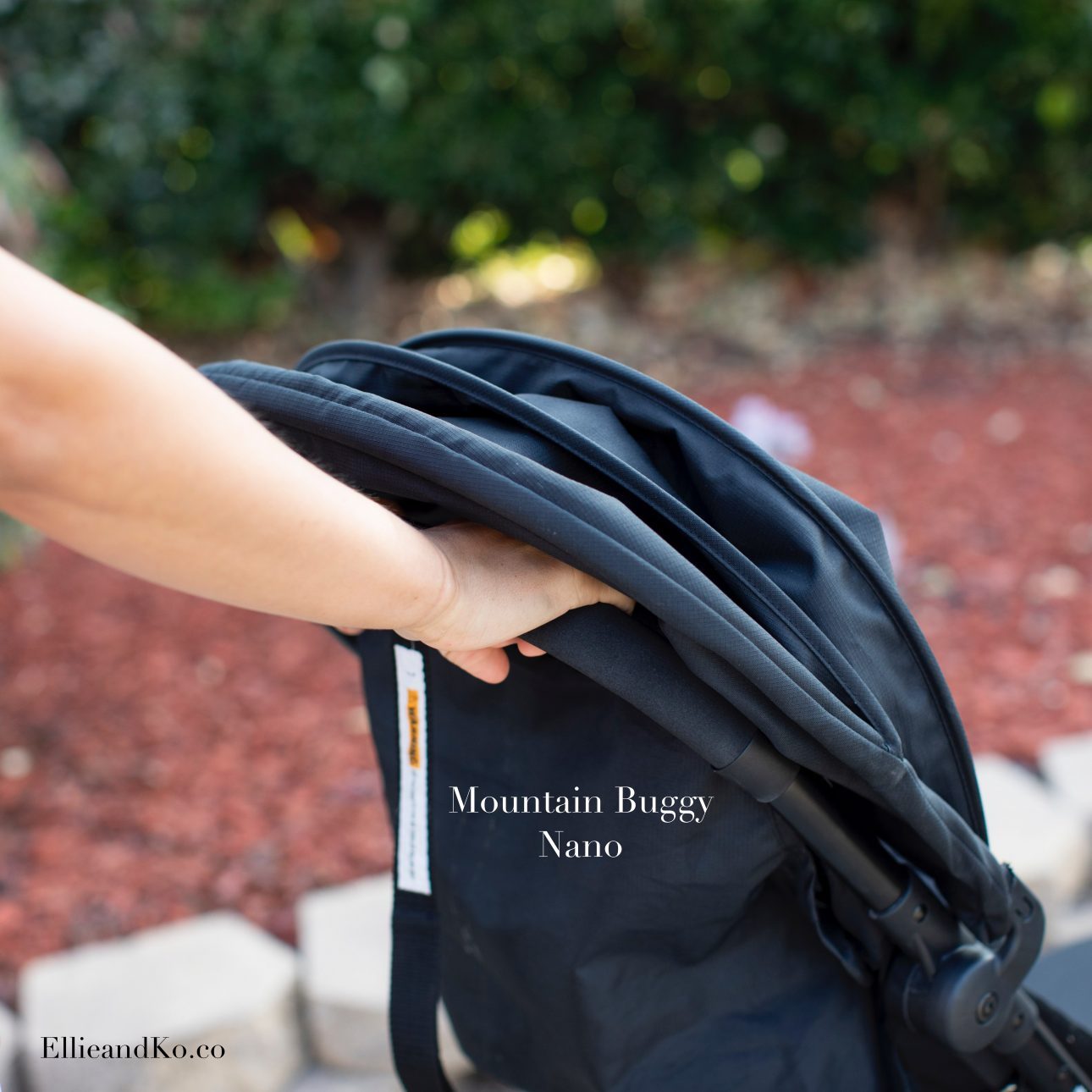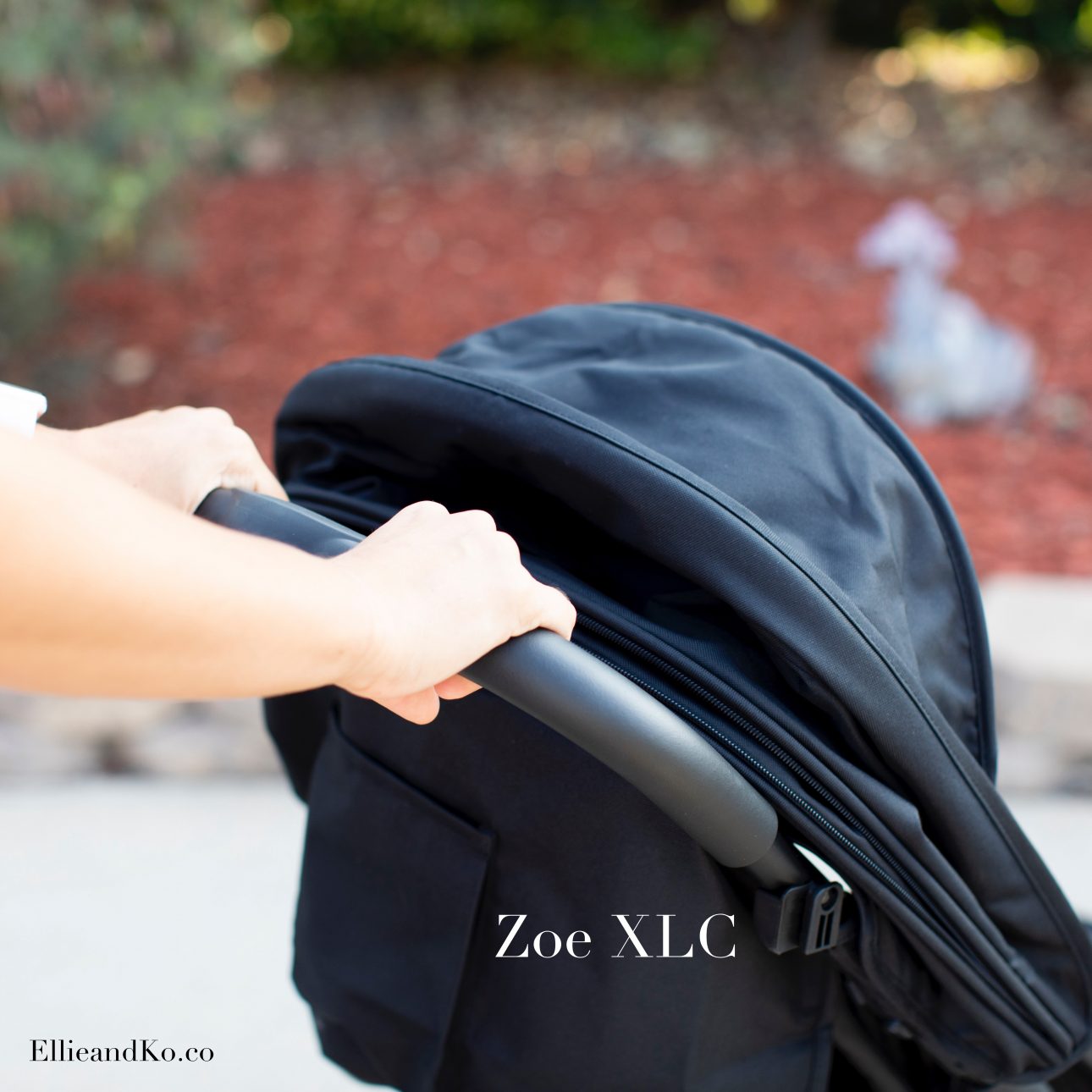 The Nano handlebar height is shorter than the Zoe. And the Zoe has an overall nicer feel.
Winner: Depends on your height. We're on the shorter side so the handlebar height isn't an issue.*
*Now the thing that does annoy Nat is how the Nano's sunshade covers your hands when it's pushed back all the way.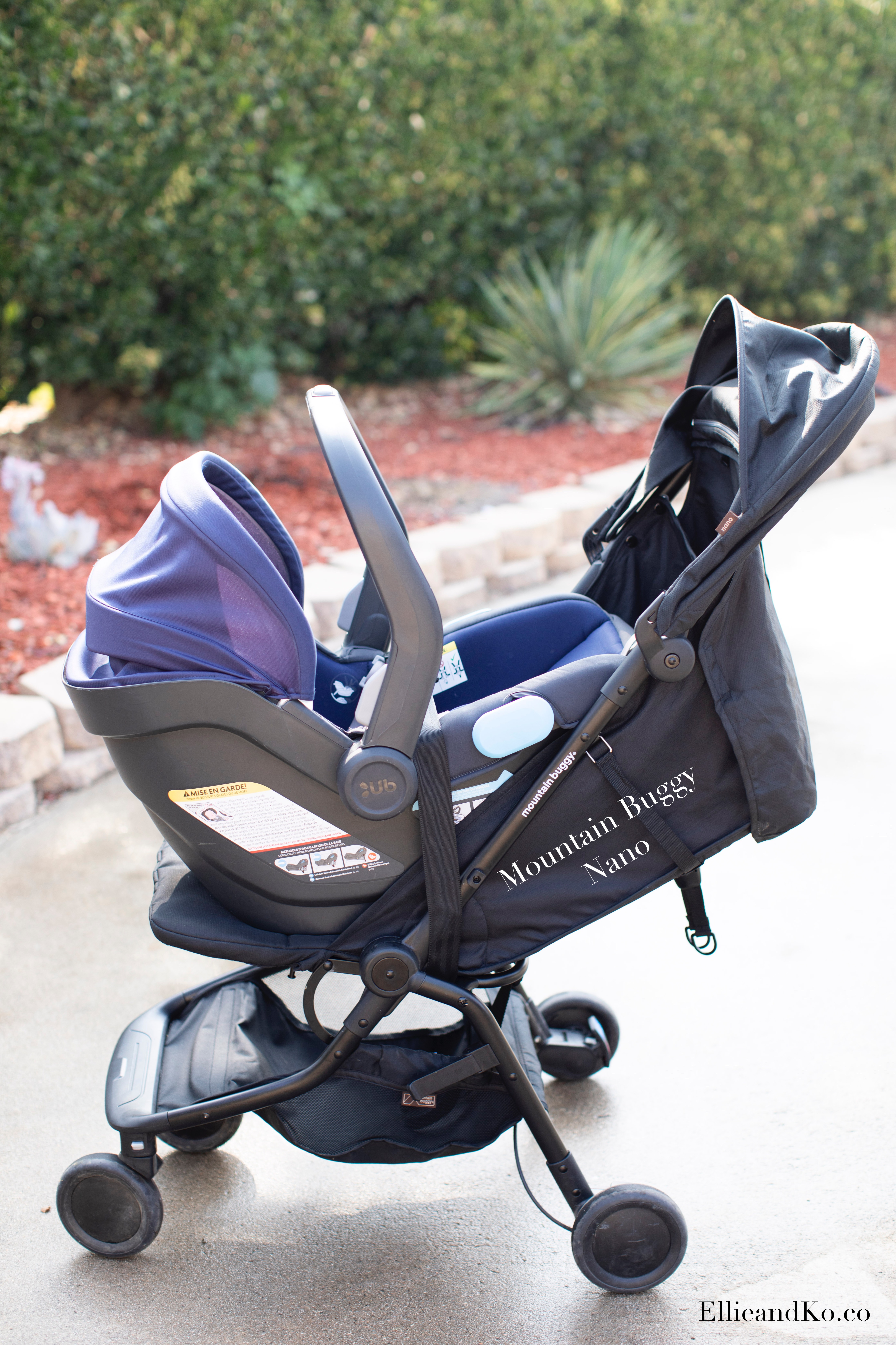 Here are some of Mountain Buggy Nano's bonus features:
Infant Car Seat Attachment - There are built-in straps to secure an infant car seat to the stroller. This is an insanely handy feature we've used a number of times.
Shoulder Strap - The Nano has a built-in shoulder strap. This is quite convenient when getting on and off the plane. This is a paid accessory for the Zoe. 
Storage Bag - The Nano comes with a storage bag. This is a paid accessory for the Zoe.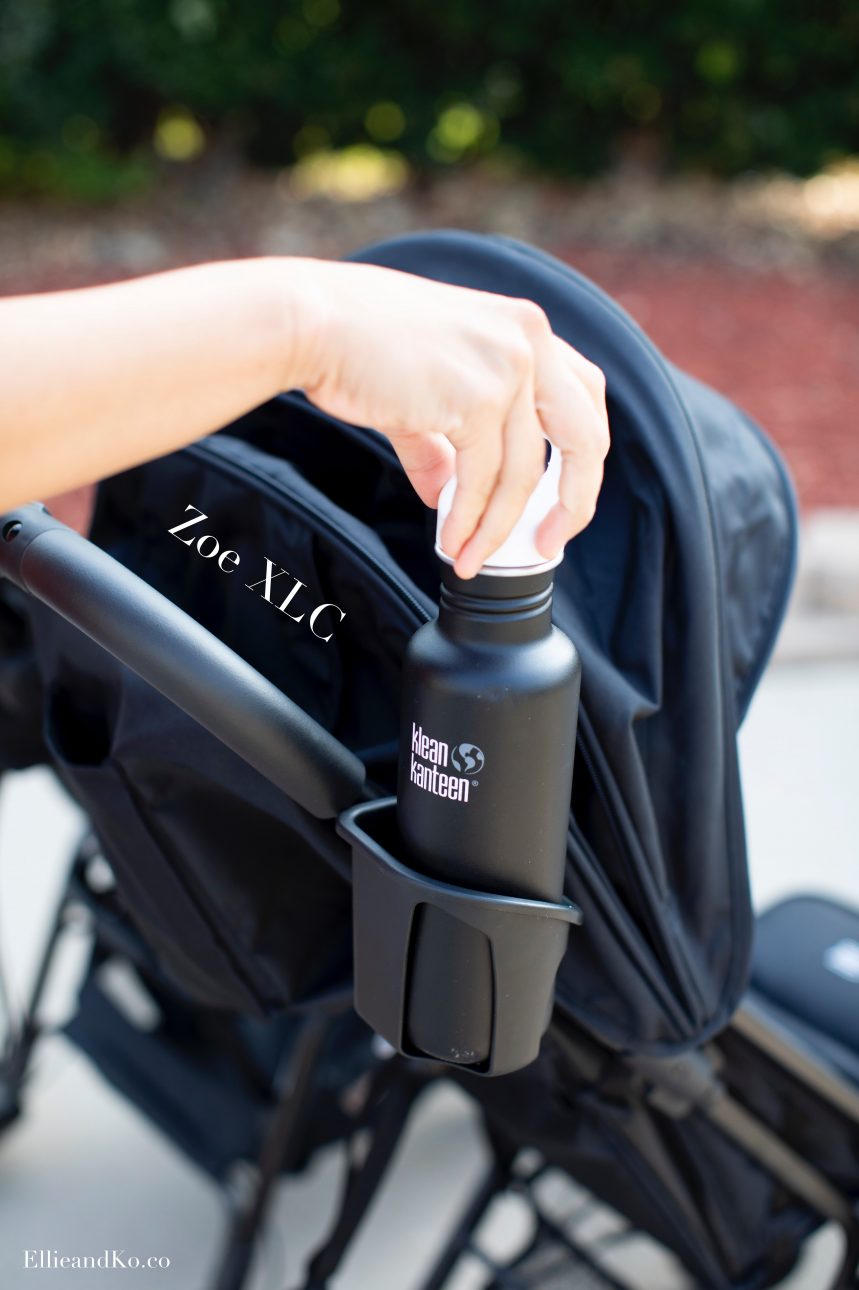 Here are some of the Zoe's bonus features:
Cup Holder - The Zoe comes with a handy cup holder. The Nano also features a cup holder attachment but the cup holder is a paid accessory. 
Pocket on Back of Stroller - The Zoe features a genius little pocket on the back of the stroller, perfect for your phone or keys.
Peek-a-Boo Window - The Zoe has a little window/vent on the sunshade so you can check on your little one.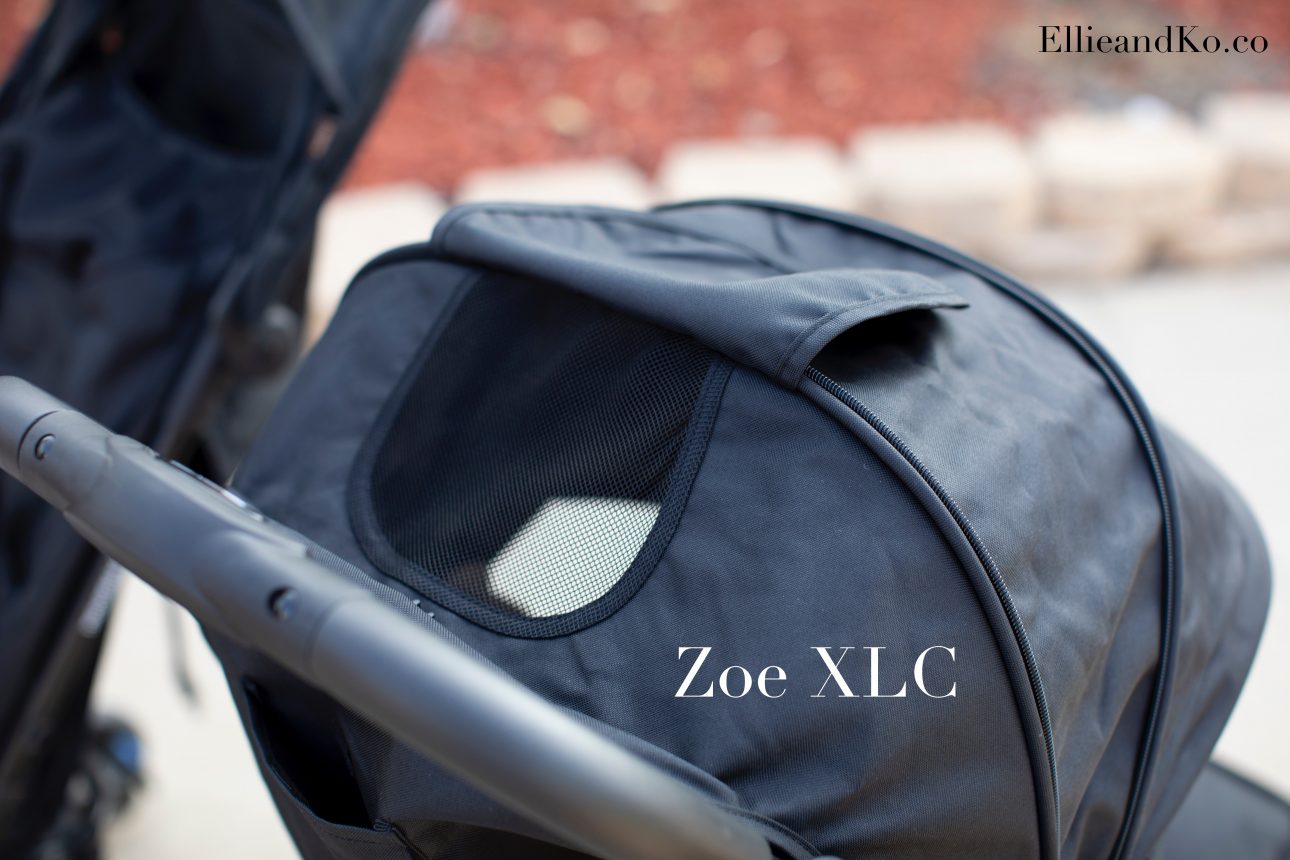 So which one wins the bonus feature category??? While both offer some nice extras, the car seat attachment makes the Nano the clear winner!
Winner: The Nano 
Seriously, we've used the car seat attachment on numerous occasions and it's been a total lifesaver!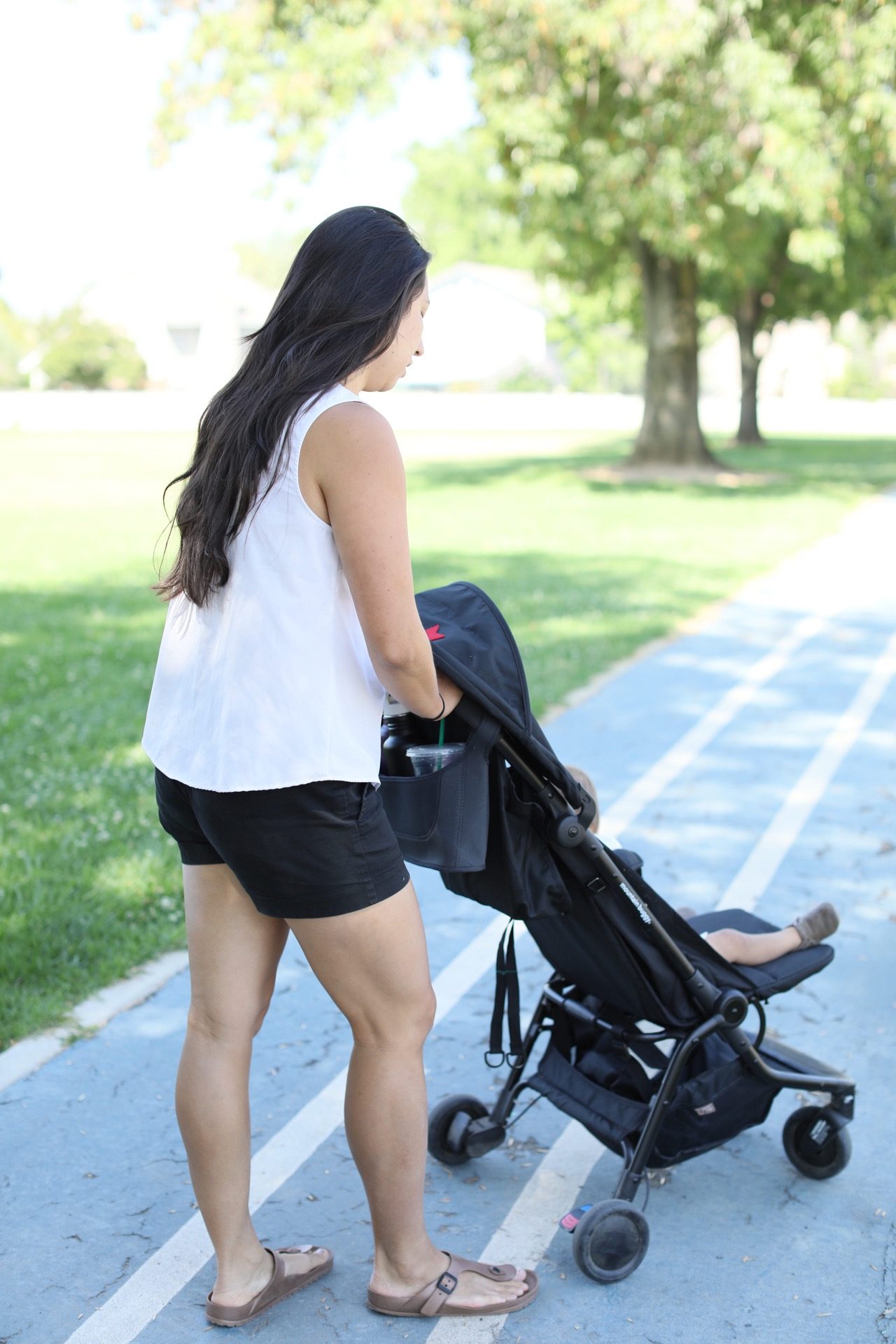 Even though the Nano and Zoe were tied with category wins, the Nano was the clear winner! Here are the two features that put the Nano on top:
Storage Space - Honestly, the Zoe's stroller space is an instant deal-breaker. Babies require a lot of stuff and the Zoe simply doesn't cut it. Now, if you're a minimalist or your kid's a bit older, this might not be an issue for you.
Infant Car Seat Attachment - This feature is so good, especially when you have to transport a car seat while flying.
Still Not Sure Which Stroller to Buy? Here's Our Quick Guide to Travel Stroller Shopping: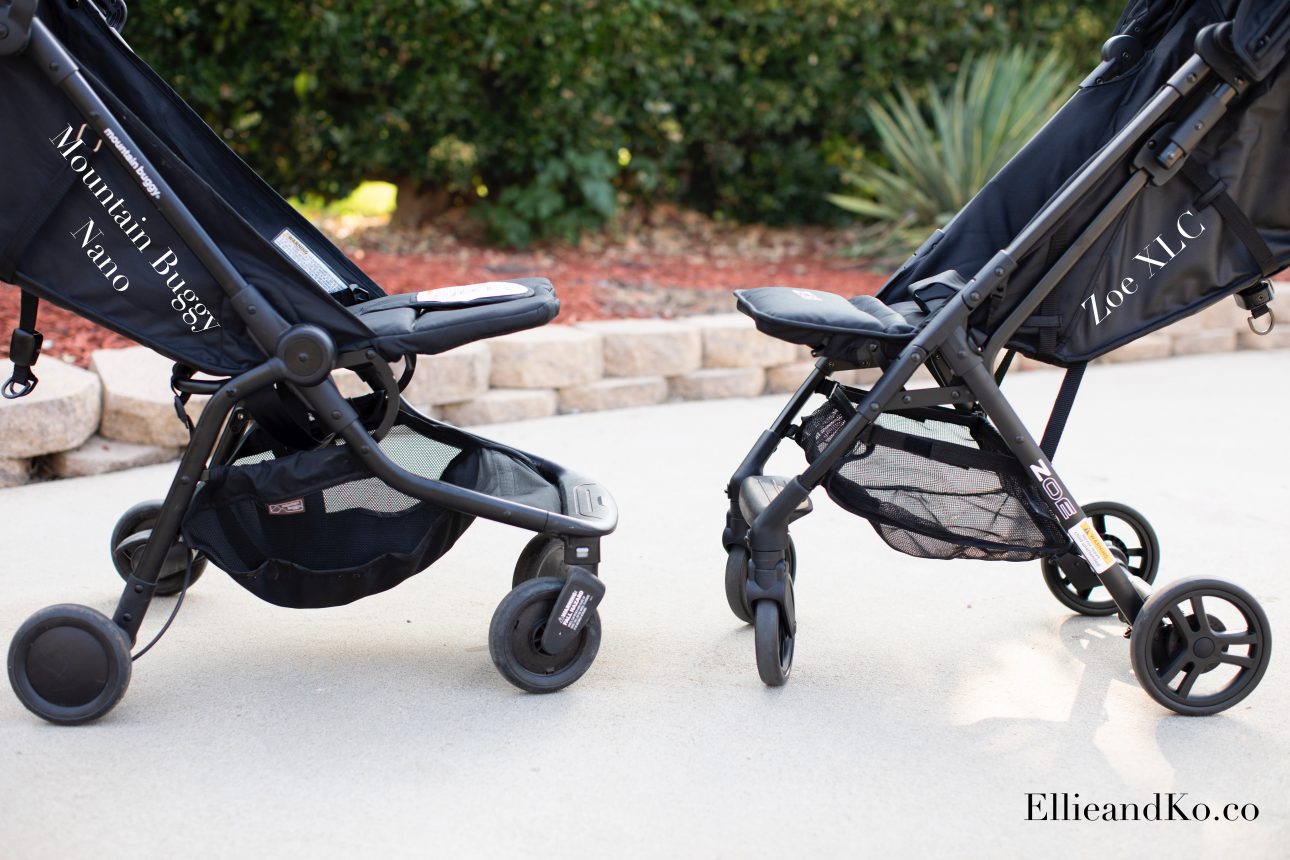 Buy the Nano if...
Storage space is a necessity
You need to transport an infant car seat - I've also seen some people attach a toddler seat but Mountain Buggy doesn't endorse this and we haven't personally tried it.
Buy the Zoe if...
You're tall and need a higher handlebar
Like a peek-a-boo window and want an extended sunshade 
Never overpack again with our Mommy & Me packing checklist.
Download the exact checklist we use and completely transform how you travel!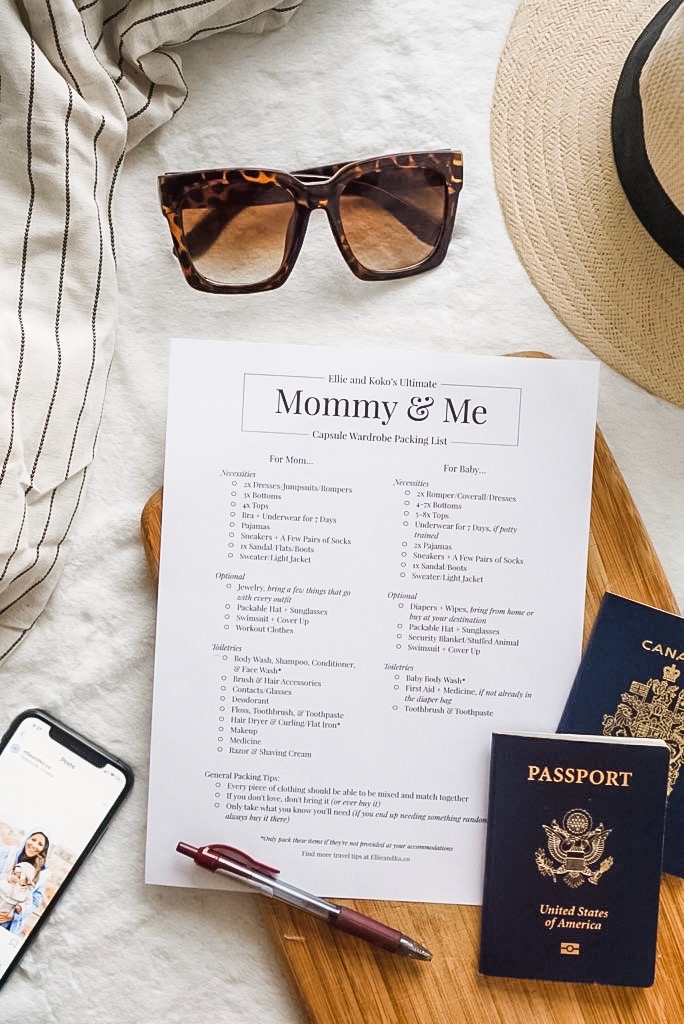 Ellie and Koko is a participant in the Amazon Services LLC Associates Program, an affiliate advertising program designed to provide a means for sites to earn advertising fees by advertising and linking to Amazon.com.